Leather Sewing Machine Reviews Article by Bruce Cheaney
Leather Sewing Machine Reviews
Leather sewing machines and harness stitchers for leathercraft and leather working.
Leather sewing machine reviews. This is a resource page for sewing machines that can sew thick and thin leather and be trouble free and work for you for many years by providing reliable service.
A leather sewing machine is a big investment and it is a good idea to check out all of the available resources and machine companies to make a educated decision on a leather sewing machine.
This page contains contact information to some of the top leather machine companies that sell leathercraft, leather working and saddle making sewing machines and stitchers.
As a word of advice always ask and see what comes with a new leather sewing machine as far as attachments and accessories like thread, needles, motor and stand and so on.
Some of the leather sewing machine companies listed below have demonstration videos of their machines being used and in action to give you an idea of how they sound and perform.
Leather Sewing Machine Reviews Best Harness Stitcher Resource Guide
Cowboy Quality Leather Stitchers
Full Service Sewing Machine Dealer
Contact information
Toledo Industrial Sewing Machines
3631 Marine Rd.
Toledo, Ohio 43609
1-866-362-7397
www.tolindsewmachine.com
Cobra Class 4
Leather Machine Company
Contact Information
Leather Machine Co
2141 E Philidelphia St Unit "U"
Ontario, Califonia 91761
1-866-962-9880
www.leathermachineco.com
Weaver Leather Supply
Leather Sewing Machines and Harness Stitchers
Adler Sewing Machines
Thread, Needles and Sewing Machine Parts
Mt. Hope, Ohio
1-800-932-8371
www.leathersupply.com
Artisan Sewing Machines
Saddle, Harness and Holster Stitchers
TORO Sewing Machines and Stitchers
Contact Information
1340 Howard Street
San Francisco, California 94103
1-888-838-1408
www.artisansew.com
TechSew
Industrial Sewing Machines
Featuring TECHSEW 5100-SE
Ultimate Leather Sewing Machine
1-866-415-8223
www.techsew.com
Nick-O Sew
Nick-O Sewing Machines, LLC
Machines Always In Stock
Genuine JUKI Japanese Machines
Contact Information
7745 Hwy 76 S.
Stanton, TN 38069
1-800-526-4256
www.nickosew.com
Ferdco "Super Bull" Pro 2000
Hoffman Brothers
Leather sewing machine attachments,
accessories, motors, stands.
Contact Information
1795 Birchwood Ave
Des Plaines, Il. 60018
1-800-323-9120
www.hoffmanbrothers.com
Leather sewing machines and harness stitchers for leathercraft and leather working.
Thanks for taking you time to check out these leather sewing machine reviews. If you or your company would like to be included please use the contact form and submit your request for our consideration.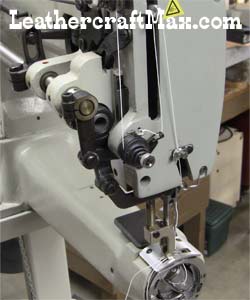 Leather Sewing Machine Reviews and Resource Guide