Article and DIY Videos by Bruce Cheaney
The knife sheath filler is one half inch wide and that will give the sheath plenty of support to make it strong and will be fairly easy to sew on the leather sewing machine and not have to worry about running off of the side due to being flimsy.
I use vegetable tanned russet saddle skirting for my leather knife sheaths and the weight is ten to twelve ounce.
After the knife sheath is sewn I like to wet and rub the edges for a clean finished look. This can be accomplished by dipping the knife sheath real quickly in tap water and then apply Fiebing's saddle soap to the edge of the knife sheath and rub it with a burlap bag or a piece canvas this will produce a smooth edge.
Knife sheath making How to make leather knife sheaths
You can get just about all the tools, materials and supplies for making your own knife sheaths from Tandy Leather.
The leather sewing machine I like and use came from Toledo Industrial Sewing Machines LTD.
On my Cowboy CB-4500 harness stitcher sewing machine I use white polyester thread and size 200 or 230 needles depending on the thickness and stiffness of the leather that I am sewing.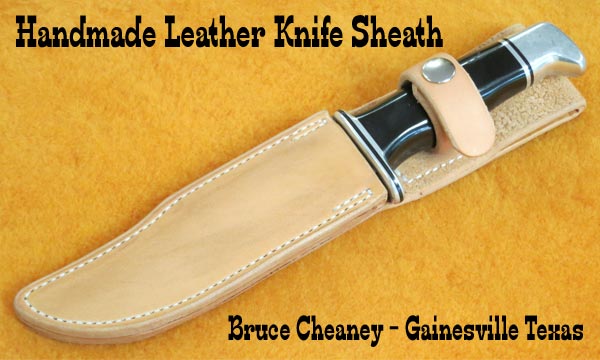 Listed below are two more of my Knife Sheath Making Tutorials that you are welcome to watch.
How to make knife sheaths – Part 1 – DIY Videos – Knife sheath making. How to make a custom leather knife sheath. Leathercraft and leather working tutorial for making knife sheaths for your bushcraft, hunting, filet knives.
How to make knife sheaths – Part 2 – DIY Videos – Knife sheath making. Sewing custom leather knife sheaths on a cowboy harness stitcher sewing machine through multiple layers of vegetable tanned leather.