Tandy Leather Safety Beveler is the best hand skife on the market.
This leather skiving tool was purchased from Tandy Leather in Fort Worth Texas it is my favorite leather skiver and I use it all the time for my leathercraft and leather working projects and also for shaving the groundwork in my custom made saddles.
In this YouTube video tutorial I show you how to hand shave leather and change out a injector blade and then show you how sharp the new blade is.
You are welcome to subscribe to my YouTube Channel.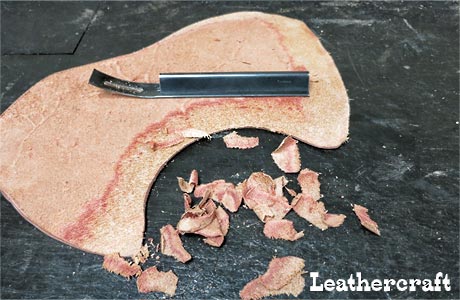 Article and video by;
Bruce Cheaney
Gainesville Texas.
Leathercraft Site
Thank you for watching this leathercraft tutorial titled; Leather Working – How to Shave and Skive Leather.
The name of the leather tool I am using is Safety Beveler available from Tandy Leather Part Number is 3001-00 and a 10 pack of blades Part Number is 3002-00.
The contact person Tandy Leather is Anthony Porter he is the manager at the Watauga, Texas store and is willing to help you with all your leather working and leathercraft needs.
Contact Information;
Anthony Porter – Manager
6900 Denton Hwy #101
Watauga, Texas 76148
Phone number 817-503-2318
Toll 866-322-8965